Description
9X6 PURE SILICONE LUBRICANT
12.9 oz (381ml) Total
1 x 8.5 oz 9X6 Pure Silicone Lubricant Bottle
+
1 x 4.4 oz 9X6 Pure Silicone Lubricant Bottle
A total of 12.9oz of 9X6 Pure Silicone Lubricant! That's right! You receive a set of two (2) total bottles in your order. You receive our popular 8.5oz (251ml) bottle and a smaller 4.4oz (130ml) bottle perfect size bottle for short trips or keep an extra bottle in another area of your house, apartment or wherever you need a little more slide and glide. The 4.4oz bottle also makes a great size bottle to gift someone on their birthday, anniversary, stocking stuffers during the holidays or just because they need a little slide and glide.
9X6 Pure Silicone Lubricant Lube is STAIN FREE, allergy free, odor free, taste free, residue free, paraben free, glycerin free, petrol chemical free and keeps you safe, sheets safe, safe for the environment, leather safe, silicone toy safe, and latex material safe.
9×6 pure silicone lubricant is pure silicone lube made with medical grade ingredients. 99.9999% (hence the name 9×6) pure silicone is the only product contained in the bottles.  Many other silicone providers use up to 2% formaldehyde to prevent foaming in the bottling process and sterilization of the bottles.  9×6 have developed a bottom to top filling process that avoids using ANY other chemical than our main ingredients – silicone.
This never-sticky silicone lube is long-lasting, slick and comfortable on skin and inside the anus. It moisturizes, leaving skin smooth, supple and soft.
NOTE: THIS PRODUCT IS SOLD FOR U.S. CUSTOMERS ONLY – NO INTERNATIONAL SHIPPING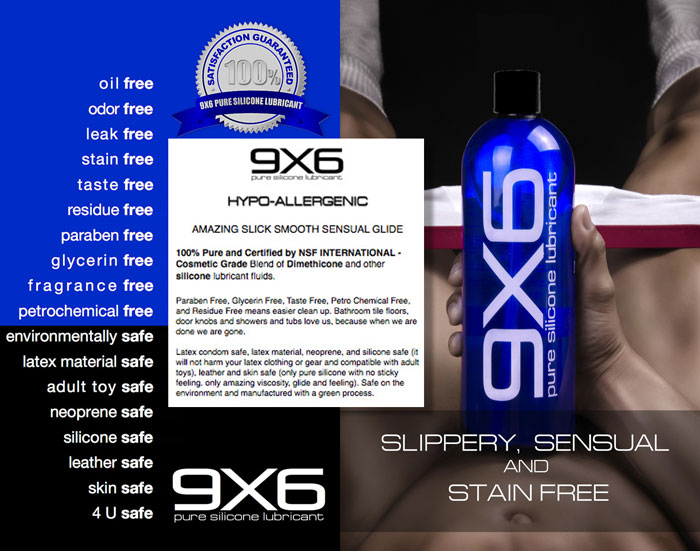 APPLICATIONS:
Use on SKIN, LEATHER, LATEX, SILICONE, RUBBER, VINYL, NEOPRENE, WOOD, SILICONE TOYS,
METAL, PLASTIC, and TEFLON in and out of water. To achieve best results, clean area with soap and water.
Apply directly on the desired area. Re-apply as needed. If skin irritation occurs, seek medical advice. 9X6 does
not contain spermicides and is not a contraceptive. The use of this product does not prevent contracting
sexually transmitted diseases.
INGREDIENTS:
Medical grade Dimethicone and our unique blend of premium silicone fluids.
MADE IN THE USA
Product54 Corporation
a California company