Description
9X6 PURE SILICONE LUBRICANT
16 oz (473ml) Bottle
"STAIN FREE, ALLERGY FREE 9X6 Premium, Personal Lube"
9X6 Pure Silicone Lubricant Lube is STAIN FREE, allergy free, odor free, taste free, residue free, paraben free, glycerin free, petrol chemical free and keeps you safe, sheets safe, safe for the environment, leather safe, silicone toy safe, and latex material safe.
9×6 pure silicone lubricant is pure silicone lube made with medical grade ingredients. 99.9999% (hence the name 9×6) pure silicone is the only product contained in the bottles.  Many other silicone providers use up to 2% formaldehyde to prevent foaming in the bottling process and sterilization of the bottles.  9×6 have developed a bottom to top filling process that avoids using ANY other chemical than our main ingredients – silicone.
This never-sticky silicone lube is long-lasting, slick and comfortable on skin and inside the anus. It moisturizes, leaving skin smooth, supple and soft.
NOTE: THIS PRODUCT IS SOLD FOR U.S. CUSTOMERS ONLY – NO INTERNATIONAL SHIPPING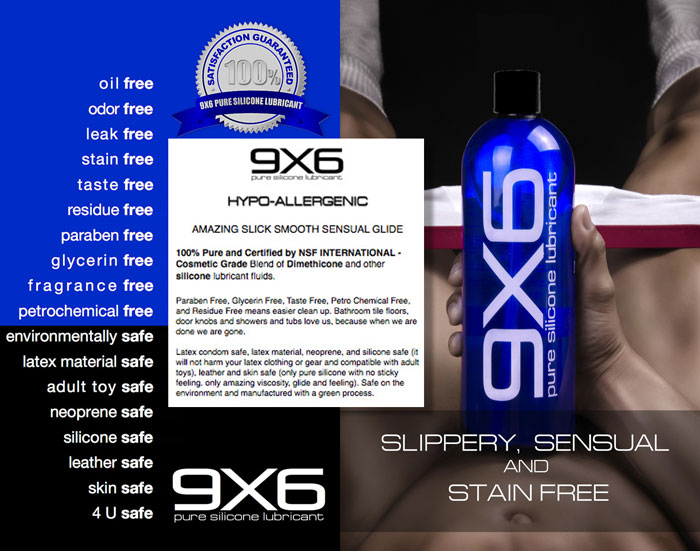 9X6 Pure Silicone Lubricant
"PROVIDES THE SLIDE TO THE GLIDE"
STAIN FREE, RESIDUE FREE, TASTE FREE, ODOR FREE, GLYCERIN FREE, PARABEN FREE, FRAGRANCE
FREE, ENVIRONMENTALLY SAFE, NEOPRENE SAFE, SILICONE SAFE, LEATHER SAFE, SHEET SAFE,
LATEX SAFE, and SKIN SAFE. 9X6 protects against UV light and corrosion in extreme low to high
temperatures.
APPLICATIONS:
Use on SKIN, LEATHER, LATEX, SILICONE, RUBBER, VINYL, NEOPRENE, WOOD, SILICONE TOYS,
METAL, PLASTIC, and TEFLON in and out of water. To achieve best results, clean area with soap and water.
Apply directly on the desired area. Re-apply as needed. If skin irritation occurs, seek medical advice. 9X6 does
not contain spermicides and is not a contraceptive. The use of this product does not prevent contracting
sexually transmitted diseases.
INGREDIENTS:
Medical grade Dimethicone and our unique blend of premium silicone fluids.
MADE IN THE USA
Product54 Corporation
a California company